theladyrebecca
I had my limited class with Luca first thing on Saturday, The Boned Seams of Bodices. Such an informative class! I wish we had had more time, to fully finish our samples, but I think I got enough to be able to implement it all on my own. And I can't wait to order German plastic boning and actually start boning my bodices. I almost never do! And actually, the only other class I went to on Saturday was Luca's lecture on creating a Worth ballgown. I decided I wanted a break instead.
I wore my 1890s walking dress during the day. It's already very much feeling like a "this old thing" since I made it last Aug, and have already worn it a few times. I didn't even think to take a picture, but Vivien did! I hated my hair, though - I'm honestly not sure what happened there...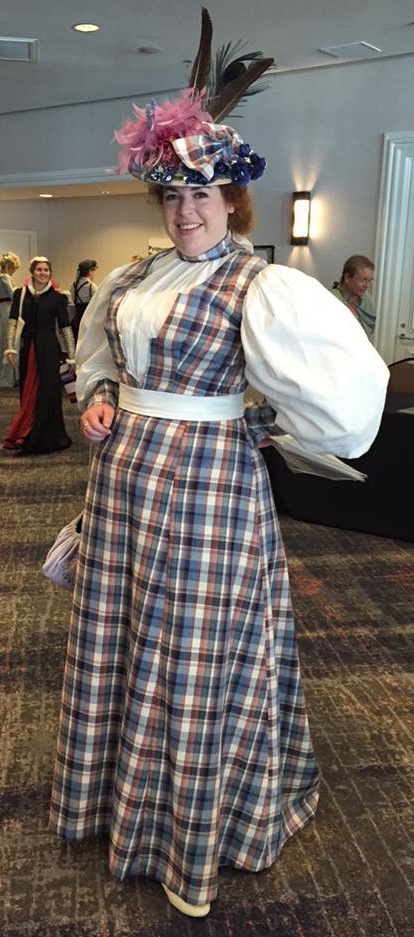 I also "this old thing"ed it for the gala, pulling out my black silk bustle gown I made earlier this year, though this time, I let down the train for a while, since CoCo'ers are the only people I trust around a train. :) And hey, it's nice knowing that a gown is going to fit, and not have any issues with hair etc, because I've done it before!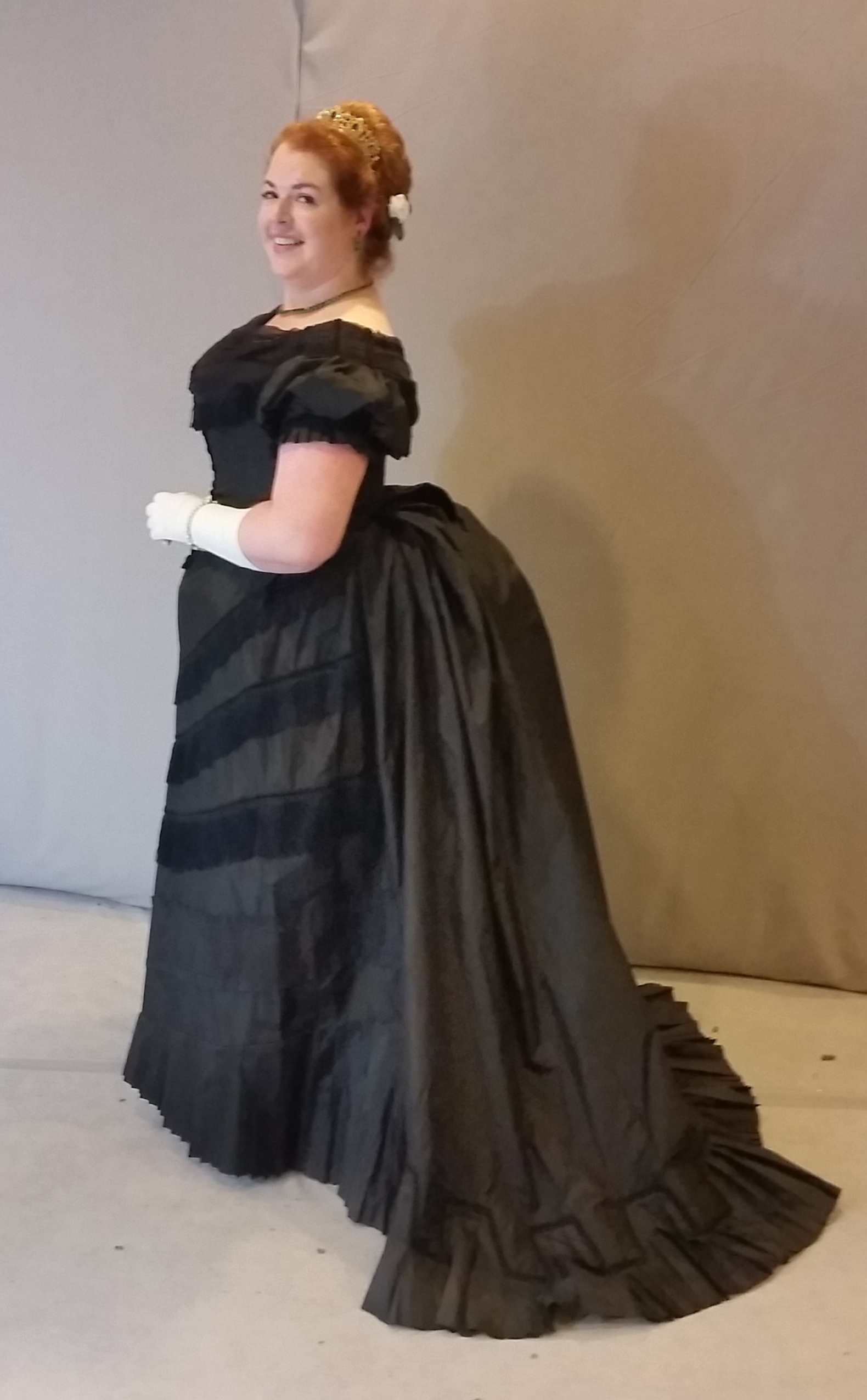 There was a great group of around 25 of us who walked over to Maggianos, and though the service was a little slower than normal this year, it is still a billion times better than eating the overpriced stuff they serve at the gala. We also had plenty of time to brainstorm what we wanted to do as a group project for next year! (Fair warning, I'm probably going to spam post about our Keira Knopely group a fair amount this year.) When we came back, we peeked in on the dancing and stuff, but mostly I just chatted, since as usual, I didn't like the music. Some year I'd really love to hear legit ball music, and have Regency dancing or waltzing or something for the majority of the dances. Pop music just doesn't make sense.
Anyway, my pics from dinner are all dark and blurry because my phone camera sucks, so instead of posting them here, feel free to follow this link to see them:
https://www.facebook.com/media/set/?set=a.954427004153&type=1&l=7e02c68062
There were so many gorgeous gowns this year! As I think I said before, though, I was really bad about taking pictures this year, so I only got a few of them. But I really feel like there's starting to be so many gorgeous costumes that I almost stop seeing half of them, because all the goregousness blends in together!
Anyway, we couldn't stay at the gala for too long, because we had to scoot out to the midnight release of the new Harry Potter play! It made for a very late night, but everyone at Barnes and Noble seemed to enjoy our costumes, and we did get our books!