theladyrebecca
I slept through my alarm Sun morning, and my roommate woke me up at 7:10. My goal had been to get to the Bargain Basement line by 7:30 - aaahh! So I super scrambled, and got dressed crazy fast in my 1850s sheer dress. I literally somehow got all my makeup and hair done, and fully dressed in less than 30 minutes, which is totally a record for me by a long shot. (I usually take 45 mins-1 hr in the morning, and easily 1.5 hrs when I'm doing historical hair/costumes.)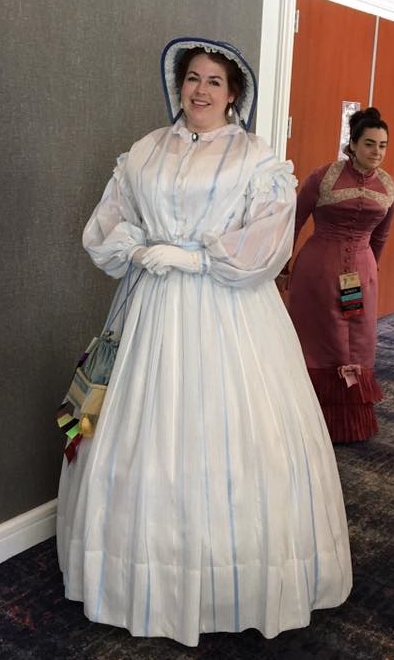 So anyway, I made it to the line soon enough to be in the second batch of people allowed into the Bargain Basement. That said, I was really disappointed in it this year - not in the quality/quantity of stuff, but in the rudeness of the lady helping with the checkouts. After I made my offer ($20 for two grocery bags worth, which seemed totally reasonable to me), she dug through my two bags, and pulled out a torn up fur, rudely saying that the fur alone was worth more than that (it wasn't - it was small and torn), so she took that out, and still took my $20, which, without the fur, made my haul very small. I got a few pieces of scrap faux fur (which will hopefully be just enough for the Winter Bustle I'm making), a small piece of tan wool fabric, some millinery flowers, 3 cut-up patterns, two wide laces, some metal buttons, and a pair of 18th c style buckles (which turned out to be AD buckles, so at least that was good to learn). But in other words, waaay less than I usually get from the Bargain Basement, yet I think it might be the most I've paid there. So rather disappointing...
Anyway, I dumped my stuff in my room, grabbed a muffin from the Concierge lounge, and scurried off to Luca's 19th C Silhouette class. I now plan to make all my stuff with padding (after I make the proper corset, of course!). Next, I took Francis's Galliards dance class, which was very fun - I swear, between his class this year, and

ashamanja_babu
's dance class last year, I think I have more fun in the dance classes than in any other CoCo classes! I want more! I also went to Laura's class on dating historical garments, which was very informative, and she helped me narrow down the dates on my new 1890s walking suit (probably mid-1890s, even though the sleeves aren't crazy huge, because it's not an outfit that's at the height of fashion, anyway).
That was it for CoCo classes. I did spend some of my other time on Sunday hanging out with Harry Potter friends, doing readings of the new play. We made it through the first act together, all playing multiple characters, and it was awesome! I also re-learned how to play Whist. :) But eventually, it got too late, and I had to go pack up my stuff.
Monday, I took all my luggage with me on the tour bus to the fabric district. (I always do that, since it's so much easier to get to LAX from the fabric district with a shuttle or Uber, and just fly out that evening). I did have some nice finds in the fabric district - I bought two new Disney cotton prints for skirts for my shop (and a villain skirt for me!), something like 15 yds of dark forest velvet ribbon,and 8.5 yds of forest green wool for my Winter Bustle. I rarely find reasonable wool in the fabric district, and while it was definitely more than I usually like to spend on wool (it was $12.50/yd), it was the perfect weight and color, and I haven't seen that color online recently. (Oh, and I can't think of the store name right now, but it's right across from the guy known for his wool in that sort of indoor area off of Maple, I think).
No pics of anything, but you can see the fabric in
my etsy shop
, and if you're interested, it's available as yardage or in my simple skirts.
We shared a Lyft back to LAX, killed time before flights, and then CoCo was officially over. :( Is it time for next year yet?