Costume College was wonderful, as usual. I really didn't take that many classes this year at all, which was actually kind of nice, as it left more time for socializing. And yet, I still wish I had had more time to see everyone and do everything! I will (hopefully) do wrap-up posts with pictures of what I wore when, and details on the classes I took, and what I purchased, etc. But for now, since it's all mulling around in my mind, I want to get down in writing what I hope to accomplish for the next year.
2018-19 is hopefully going to be a year of filling in gaps and using up stash. There's just a few styles I'm missing in my costuming, most of which I would like to remedy. And since I literally bought one piece of fabric in the fabric district (yesterday's shopping trip was pretty frustrating, to be honest), pretty much everything is either going to have to come from my stash or be able to be sourced locally, which is a little scary. And the other scary part is that at this point, I have only one completely concrete plan, which is very unlike me, and it's actually a plan that has been pushed off from year to year, which I'm determined to finally make this year.
What I'd like to make:

-An Elizabethan ruff. I took the ruff class on Sunday, and it was so good. Em Bee gave me half a yard of linen yesterday (he is so nice!), and I'm going to attempt to make this before the Ren Faire on Saturday.
-An 18th c working class outfit, with ankle-length skirt, probably some sort of short jacket, apron, fichu, cap, possibly hat, all in different colors and patterns. I also want to make the new American Duchess stays pattern for this, since both of my existing stays are not very comfortable.
-An s-bend corset. Ideally, I'd love to make the Edwardian dress I didn't get to this last year to go over it, but I'd still have to source the velvet ribbon, so I'm not sure that's going to happen.
-A cotton 1840s dress. Something like one of these.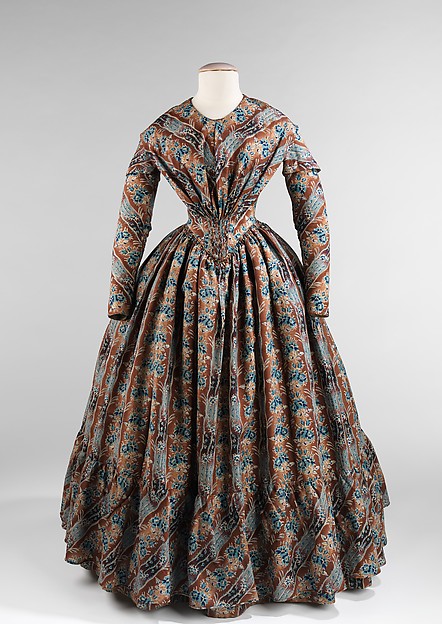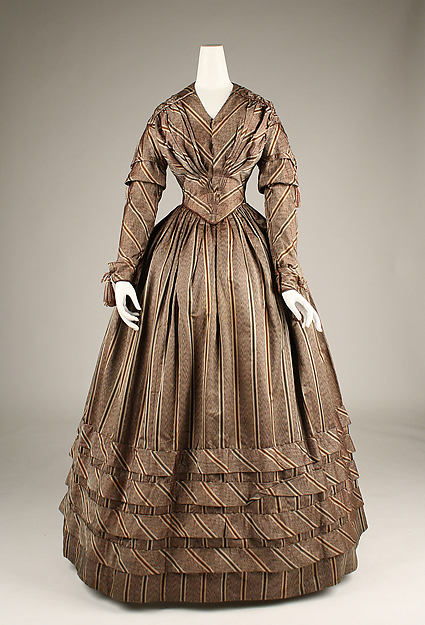 -The blue riding habit from Daniel Deronda. Yes, I'm finally going to get to this. It's been on my list for how many years? We're going to do a Daniel Deronda group for Friday during the day next year, which means this will actually get done, since I love group projects.
-A Disney Bustle Gown for Friday night next year. I'm almost positive I'm going to do the Fairy Godmother, based on this extant dress, but turning the back tails into a giant hood. I'm fairly certain I purchased enough blue silk for this last year, but I couldn't find any pink silk in the fabric district, so that may be the only thing that prevents me. Or I'll use poly, since it's just the accent color. Or maybe I'll cut up my court gown petticoat, since I doubt I'll ever wear that again.
-For the gala, I think I want to do a natural form bustle gown. I have never done natural form, but the problem is that I'm still not a fan of most of it, especially for evening-wear. This plan might very well change, as I didn't find any good fabrics for this in the fabric district yesterday.
-A hot pink and pink plaid bustle gown. I might do this as a natural form instead of the gala, because I seem to prefer the natural form day-wear, though if I can make this color combo work for the gala, then that may be another option. I picked up the pink plaid last year, and found a solid pink (dupioni, but with very little slubbing) yesterday in the fabric district.
So basically, I'm doing a whole bunch of bustle gowns next year!